Begging Bowls of Bangkok:
We spent the morning in an old neighborhood looking for begging bowls handmade in the traditional way since 1700. We found the craftspeople and saw much of the sandbagging. Kim is delighted to now have a real begging bowl. Right now the floods here have receded but the waters are expected to rise again soon. We went to a huge market but much of it is still closed because of the floods -- Many many walls of sandbags everywhere.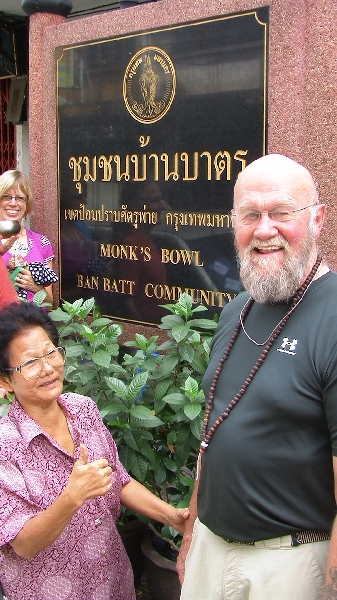 We'll fly up to Bhutan tomorrow morning and hike about 4 hours tomorrow afternoon.
Getting to Know Bhutan:
We have been in Bhutan for about 3 days now, in the city of Paro. There is 1 air strip that serves both the airplanes of the Bhutanese fleet. It is cool at night and warm in the days. This is in a valley between mountains, and so the plane drops out of the clouds and lands very quickly on the runway.
The people here look like Tibetans and 98% wear their traditional dress, which is a short coat and knee socks for men and a long sarong skirt and jacket for women. The children also wear this. There are cars but the few roads are single lane. The drivers are extremely polite and there is no honking. The streets are quiet. Animals around are horses, donkeys, cows and many, many barking mangy dogs who fight and do doggy things. There are tourists too in the city but only a few.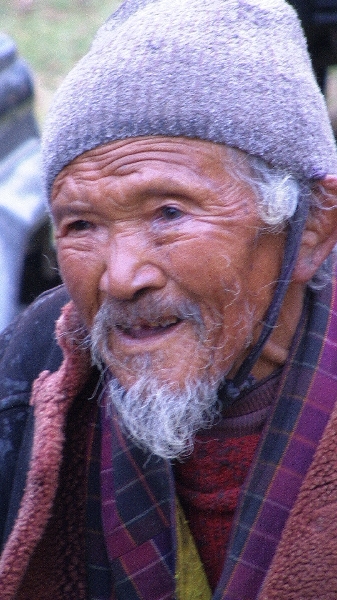 Buddhist temples are everywhere, and there are Buddhist prayer wheels, prayer flags and symbols on the hillsides and in the squares. We have visited various temples already, including one from the 7th century. Yesterday there was a climb up a mountain to a temple-- with the astonishing views and the pure wonder. Buddhism permeates everything, even in the small convenience stores.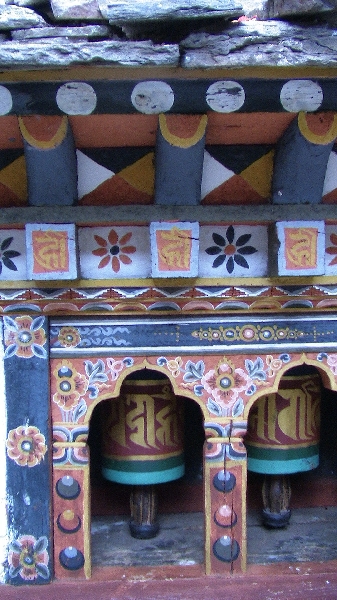 Archery is a national sport, and there are many fields where men gather and shoot arrows in friendly, beer-fueled groups. They shoot 435 feet accurately with handmade wooden bows. Amazing!!! When someone wins they have taunting songs and dances for the other team -- kind of like a football thing. Very fun and really amazing to watch.
There are no public displays of affection. The King astonished people when he kissed his bride last month.
Today we leave the big city with its single airstrip and head out to village
On the Road in Bhutan:
This country makes my throat ache with the sincerity and risk of what they are trying to do. They are determined to manage westernization successfully and to control influences that do not agree with their culture. I see their unique, strict local culture standing against the huge, dripping maw of the wild world outside.
Yesterday we took a private bus over a Himalayan pass-- stopping at the top to visit an amazing place. In trying to stop outside invaders from rebel groups from India, several of the enemy were killed. While Bhutan succeeded in stopping the outsiders, they chose to build stupas (Buddhist structures) to honor the Indians killed and to express Bhutan's sorrow and compassion. It was on a pass that overlooks the high Himalayas-- breathtaking. To me it felt as gentle and wise as the peace museum at Hiroshima. I needed to think about what the American government would to do to express their spiritual sorrow about similar deaths.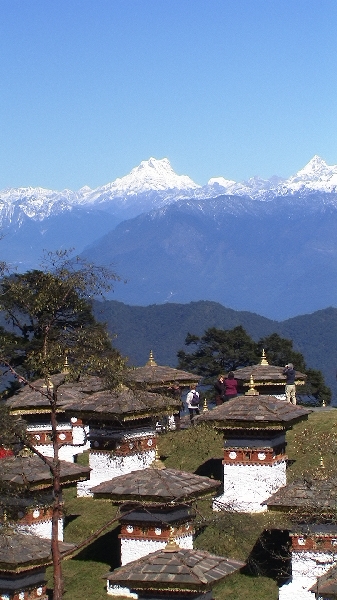 In the afternoon we visited the temple of a Buddhist monk named Drukba Cunley, also called the divine madman, who taught that free love was part of God. The temple is renowned as a fertility shrine, and they maintain an album of births to couples of all nationalities that came after a visit to this shrine. I am a bit worried because I got blessed there-- but I am hoping the fertility they refer to can be things like writing success! The temple is decorated with celebratory phallusses -- not the standard thing we thing of in temples.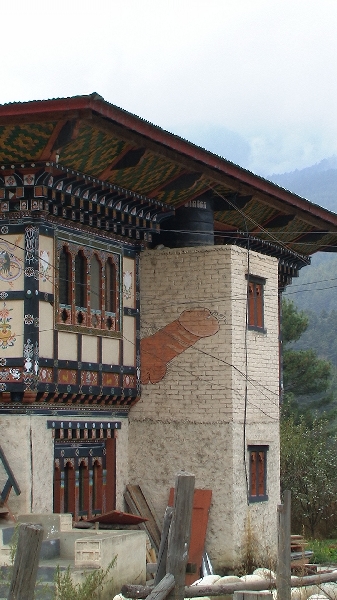 Today we will visit a very poor orphanage that Kim has found out about and give them various donations.
Altitude, Monks and Ema Dasi:
We have moved to central Bhutan, so it's colder and higher. Several people-- including Kim-- are having a rough time with altitude sickness -- that is, not sleeping well because of gasping, headaches, etc. We are ranging between 8000 and 12000 feet.
Imagine a country half the size of Australia crumpled up into mountains until it is the size of Switzerland. It's high, rough, pine covered mountains and sweet valleys with cropland with misty clouds drifting. Stony cliffs, waterfalls, high pines, condors and buzzards in the sky are the backdrop for houses of stone with roofs weighted down by rocks against the wind. This high there are yaks and cows both. On most mountains there is a monastery. The roads crawl back and forth, in and out, running level midway along the sides of the mountains -- like the ribbon candy at Christmas where the folds of candy are looped right on top of each other. There are rock slides
often and lots of road construction. There is only one road from east to west -- so what they do is to close the road most of the day for construction and then let people through only 30 minutes at a time, on a schedule. The schedule changes as the workers move, so the drivers ask each other when the road will be open.
Yesterday we hiked up to a monastery at 12000 feet-- it's the home temple of Kim's favorite Buddhist teacher so he was deeply immersed in the moment. There was snow along the road. Then in the afternoon we went to a festival in a tiny village. The monks there danced out holy stories for the villagers -- monks in bright silk costumes and
brightly painted, carved wooden masks that show the demons and deities -- twisting and leaping as they show the battle between good and evil. The music was deep horns, huge drums, oboes and chanting done by other monks. The village women also did some circle dances where they sang. Several were full of beer and so danced with much laughing and maybe some new lyrics.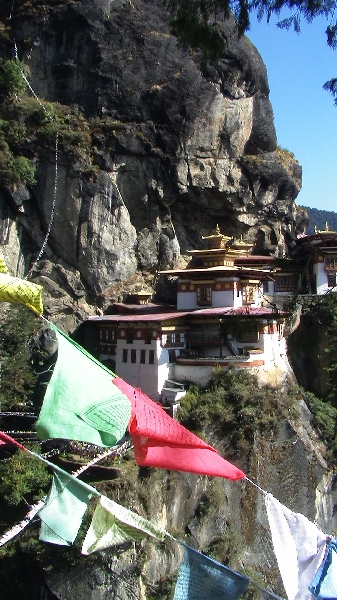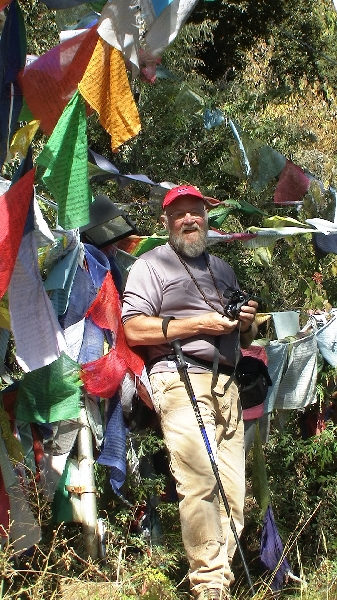 The food here is delicious. Meat such as pork or beef in a stew, veggies in butter, noodles or rice, wonderful soups are the usual. The local delicacy is hot peppers in a fondue --very very hot but delicious. People drink beer too.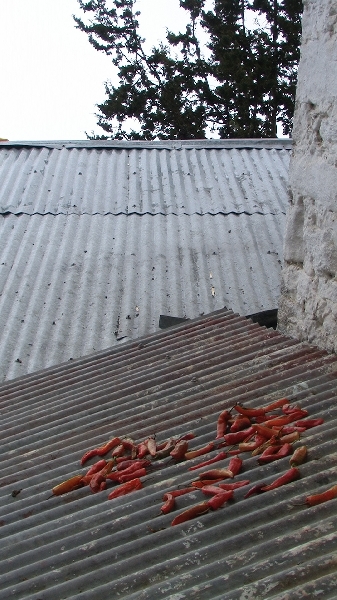 Today, more festivals and a hand-loom craft shop, then hiking in the valley.
Om Mani Padme Hum and a Frisbee
We hiked up a mountain to get to a mountaintop monastery that supports a tiny orphanage. Five Buddhist monks use their tiny stipends to support (currently) 27 orphans. To be accepted for care, there must not be any family who can help out, and some of the boys are also handicapped in various ways from birth or from malnutrition. Ages range from 6 to about 17; it costs $1000/year to support a boy. Getting him clothed and cared for when he first arrives costs $35. They have to turn away boys if their budget can't manage it. The central board monitors them closely. The monks teaching and caring for the boys are good-natured young men -- one wore levis and T shirt beneath his cranberry-colored monks' robes. The boys wear monks' robes and study scripture. they take preliminary vows but are not required to become full monks when they grow up. If they choose to leave and start a family, that is fine. Some do choose to become full monks. After completing a monks' education, their status in their home villages goes up. There are also convents run by nuns for orphan girls -- on other mountaintops.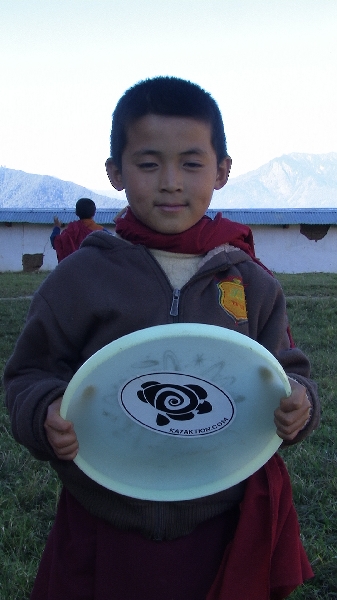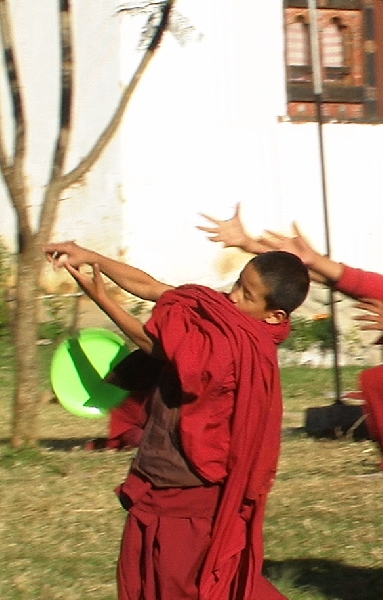 So we hiked sevearl hours up the mountain and came out at a tiny village. The monastery has a gorgeous old chapel/shrine and a big house where the boys and teachers live and study. It is of old stone. There was an earthquake here in October, and the walls were badly damaged and not yet repaired. The monastery looks out over the Himalayas, and the boys can play in the huge sunny yard inside the monastery's walls. They lined up and sat cross legged, and we gave them gifts -- pens, pencils, markers -- and frisbees and balloons! What a scene! Bright sun, boys shouting and running and jumping in the monks' robes as they learned how to play frisbee. We played with them. One of the teachers -- a young man himself-- could barely hold himself back, but, alas, felt he had to be dignified. It was an hour of jumping and laughing in the bright sun.
We all gave money donations too, and Kim gave some from Sun in my Heart.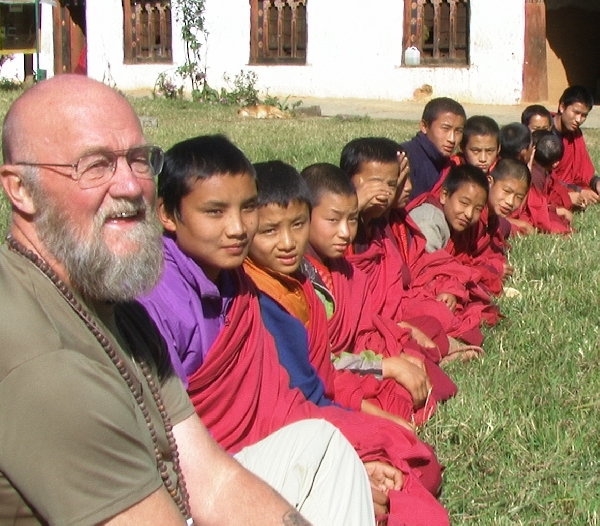 Later we drove down the mountain just as school was letting out. We had gifts like pens and fancy hair ties. The small children were wearing their school uniforms of blue robes. One little girl's face twisted in wild, amazed joy when she realized that this bus of strange looking foreigners was stopping to simply give her a sparkly gift. Her face said "I never even knew anything like this happened!" It was a moment to remember forever-- just touching the people and hoping that they see us as more than old, fat, rich, strange-looking foreigners.
Black Neck Cranes, Festivals and Farms:
We came down out of the villages in the higher mountains today, and the clients leave Friday. It's slow going on the roads here. The national speed limit is 25 mph -- really! The roads are so twisty and narrow as they snake across the sides of the mountains that no one would want to go faster.
This morning we saw about 50 black-necked cranes. There are only about 2000 in the world, and the marshes here are where they spend the winters, migrating here from Tibet and Ladakh, India. Oddly they look a bit like sheep from a distance because they are round and white except for their black necks. They make a wonderful calling sound, and up close, they remind me of turkeys because of their big bodies, but they have lovely long legs and necks. The bird watching here is phenomenal.
All of Bhutan is like a wildlife refuge-- there is no hunting or fishing in the whole country. One client brought his fishing rod, intending to catch and release, but the Bhutanese feel this is a way of torturing fish, and they feel a fish may be a sentient being who was once human. Once there was a proposal to neuter dogs ( there are many strays) and it was opposed partly on the grounds that dogs are the last reincarnation step before human, so people felt it was wrong to interfere with that dog soul's natural progress.
We attended a village fair -- very crowded, everyone in their best traditional clothes, lots of priests doing dances, lots of traditional music. There were some gambling games that Kim tried. The highlight, as we left, was that a family was leaving, going home in a 2-ton dump truck. About 8-12 kids were already standing in the back. The grandma and mom had been standing next to me. Grandma was going to ride in the back with all the kids, so mom and a friend shoved her up, pushing her up by the bottom, and the kids pulled from the top on her arms, and eventually she got her leg over the top and toppled into the back where all the kids were. Everyone laughed.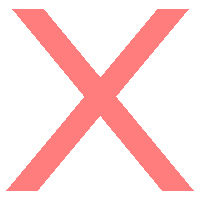 Many of the oldest men in the villages do not wear shoes, ever, even though it is about 30-34. Kim's beard attracts a lot of attention, and several of the men grin and pull their beards at him.
Some farmers have made their homes into guest houses and small restaurants. We ate at one. The menu was veggie dumplings, homemade buckwheat noodles, red rice, beef, carrots in butter, beans in cheese sauce, green beans, hot peppers in fondue, and apples. The farmer was the cook and his wife makes the local moonshine, which was a strong barley liquor. The family has a shrine room which was wonderfully warm and personal, with beautiful handmade wooden furniture and a gorgeous handmade display for their sacred objects.
We also stayed in a farmhouse cabin overnight -- tiny wood stoves in tiny rooms, great food, and, in a frigid cold bathroom, a steaming HOT bucket bath. When I doused myself with that hot water, it was ecstasy.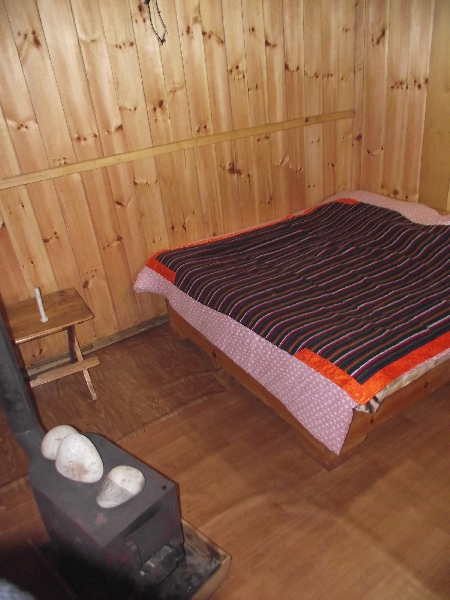 A Swiss farmer moved here and has taught cheese making and animal husbandry. We got some excellent cheese and honey. They have brought in Guernsey and Holstein cows to increase the local herd's milk production, but the hybrids do poorly on the steep mountain slopes. Yaks are best at the higher altitudes. I found that Yak Butter tea is a taste that I have not yet acquired.
We did several long hikes through the farm fields. Marijuana grows wild here as a weed. It is not illegal, but if someone is using it, they are put into a program to lose the habit. However, the farmers found that if they keep marijuana growing around their rice paddies, the pigs eat it and sleep instead of bothering the crops. So the pigs are high and the farmers are happy.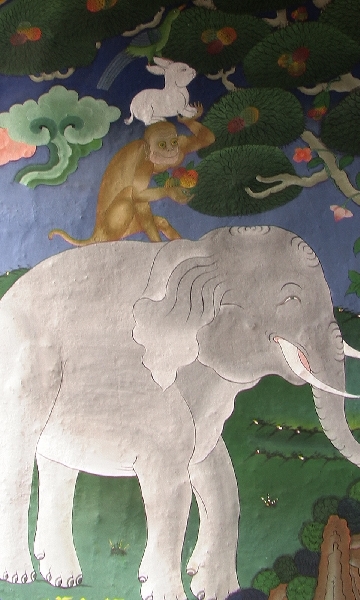 For me the highlight of the trip was a Buddhist puja (worship service) we went to one morning. It was in a monastery's chapel/shrine from the 7th century. The monks played horns 5 feet long, oboes, and huge round drums, and chanted in the deep, resonant, eerie bass that they use. We stayed a long time. Local people came and prostrated themselves and left. It felt like the deep throbbing chants were the pulsing of all life in bodies as souls try to do the dance they were born to do. I could have stayed there forever.